This page is only for demonstration of products from Taobao.com and Tmall.com. As a Taobao agent and 1688.com(alibaba.cn) purchase agent, we can buy much much more than you see here with much cheaper price. You can find the cheapest products on Taobao.com and 1688.com directly and place orders to us for purchasing service(1688.com is the largest and cheapest wholesale site in China). Click Here to See How To Do It.
Big Pink dolls and new thick winter wind slim doll collar knit sweater long sleeve College female socket
Current Price:

US $

26.09
Domestic Shipping:

US $

2.00
Size
Remove Original Packaging and Labels?
Notes:
The Total Charge depends on the item type,delivery method and destination area. Check more in
Cost Calculator
.
Seller Information
Shop: Big Pink Doll Store
Credit:
1. FreeShoppingChina.com(FSC) is a Taobao agent and is running with 0 stock. This item will be purchased from Taobao.com or Tmall.com and shipped to you.
2. Usually it takes 3-5 workdays for the item to arrive at FSC from Taobao or Tmall sellers, 1-3 weeks afterwards from FSC to your hands.
3. If you want to order items from Taobao or Tmall directly, please click here to learn How to Order from Taobao.
Product Attributes
Style: Commuting
Number: D13DKT159
Brand: Big Pink Rag Doll
Clothing Style: Slim
Thickness: General
Style: Hedging
Combinations: Single Piece
Length: General
Sleeve Length: Long Sleeve
Collar: POLO Collar
Sleeve Type: Conventional
Pattern: Solid Color
Functionality: Warm Heat
Yarn Weight: Bold Yarn
Fabric: Wool
Fabric Content Of Primary Material: 30% And Below
Applicable Age: 25-29 Years
Year/Season: Fall Of 2014
Color: Yellow
Size: S "Inventory Tight, Shot While Stocks Last" M "Inventory Tight, Shot While Stocks Last" L "Inventory Tight, Shot While Stocks Last"
Product Images
Translated Descriptions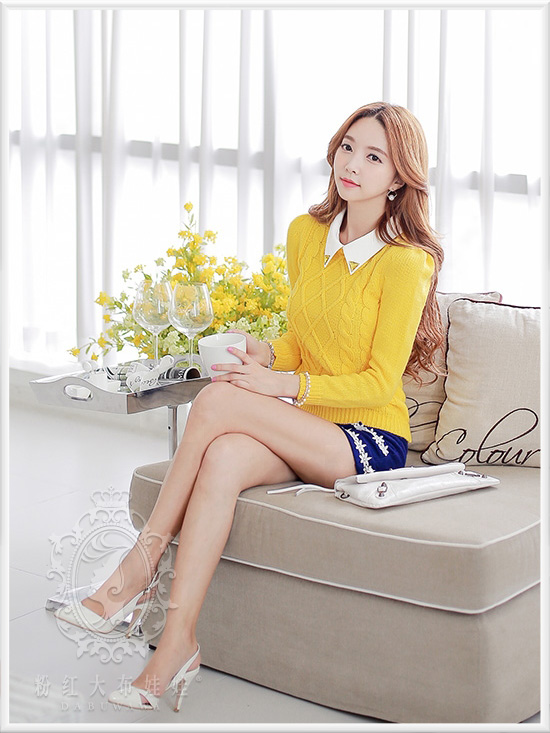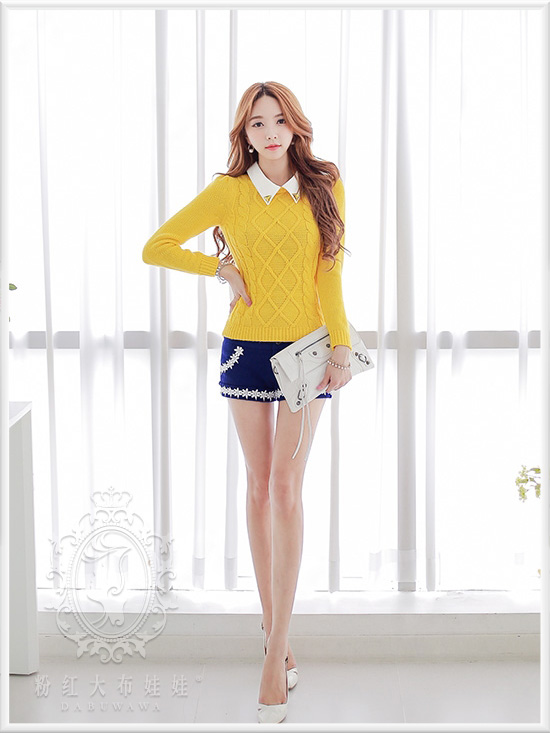 | | |
| --- | --- |
| | 娃娃精选优质纱线编织而成,含少许羊毛成分。手感柔软,有弹性,穿着亲肤舒适,保暖性佳。水洗不易变形,易打理。领子有纽扣,可拆卸。 |
| | |
| --- | --- |
| | 女生必备的毛衣单品~暖暖的黄色是这个冬季一道明媚的色彩,带来一份好心情~精致的麻花编织增添了立体感,融入了一丝复古气息。镶嵌的衬衫领,打造韩系的清新范~超优的版型,打造高挑的身姿,上身效果非常赞哦~是爱美的MM不得不buy的时尚单品~ |
S长56cm(前肩顶量) 肩宽33cm 袖长57cm 袖肥25cm 袖口16cm 胸围76-84cm
M长57cm(前肩顶量) 肩宽34cm 袖长58cm 袖肥26cm 袖口16cm 胸围80-88cm
L长58cm(前肩顶量) 肩宽35cm 袖长59cm 袖肥27cm 袖口16cm 胸围84-92cm